Performance offer – we will dance for you!
Das Folkloretanzensemble "Thea Maass" der TU Dresden zählt nach über 65 Jahren voller Höhepunkte und Auszeichnungen zu den profiliertesten und erfolgreichsten Amateurtanzgruppen Deutschlands. Jahr für Jahr gelingt es mit Teilnahmen an internationalen Folklore-Festivals und renommierten Tanz-Wettbewerben sowie zahlreichen auch regionalen Auftritten die kulturelle Pflege und künstlerische Interpretation deutscher Tanzfolklore erfolgreich weiter zu entwickeln.
Our inimitable repertoire of about 15 challenging stage arrangements is ideally suited for special performances at large or small scale events. A special feature of our ensemble is that the costumes and props are custom-made for each choreography, which authentically brings to life the traditions presented. We offer individual and attractive dance programmes of any length and type of performance that meet the highest of demands and also, upon request, accompanied by live music from our instrumental group. Let us add music and dance to your event!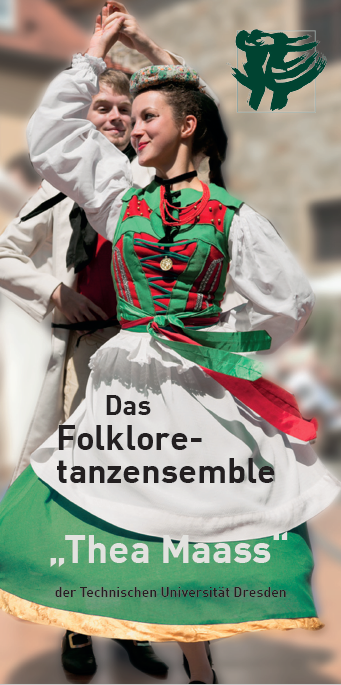 Booking request
We will be glad to inform you individually about our performance possibilities at your frame conditions! Send us a non-binding request or call us.
Request now!
---
Some impressions of our repertoire:
---
Technical & spatial requirements
Performers:
Space:
Sound reproduction:
Changing room:
Performance duration:
Preparation time:
Postprocessing time:
Costs:
Dances:
2 – 6 dancers per choreography
smooth dance space, 4 m depth and 6 m width
CD playback, a microphone for announcements
depending on amount of performers, close to performance area
2,5 – 15 min
30 - 45 min
15 – 45 min
negotiable
Varsovienne; Neckmazurka; Alte Polka; Dreisteyrer
(more about the dances at: repertoire)
Performers:
Space:
Sound reproduction:
Changing room:
Performance duration:
Preparation time:
Postprocessing time:
Costs:
Dances:
6 – 12 dancers per choreography
smooth dance space, at least 4 m depth and 6 m width
CD playback, a microphone for announcements
depending on amount of performers, close to performance area
2,5 – 30 min
45 - 60 min
20 – 45 min
negotiable
Wer zuerst am Maibaum ist; Winzertanz; Hütejungen; Ländlicher Walzer (more about the dances at: repertoire)
Performers:

Space:
Sound reproduction:
Changing room:

Performance duration:
Preparation time:
Postprocessing time:
Costs:
Dances:
6 – 16 dancers per choreography,
optional with our 6 live musicians
smooth dance space, at least 8 m depth and 8 m width
CD playback, a microphone for announcements
depending on amount of performers, close to performance area
4 – 90 min
60 - 60 min
30 – 60 min
negotiable
Lichtertanz; Am Pfingstbrunnen; Gaben zur Hochzeit; Wenn im Herbst die Trauben reifen (more about the dances at: repertoire)